Looking to build the dock of your dreams with Secured Dock Builders? In the planning of your unique construction it's worth considering the different types of materials to construct your steps as they really are the foundation of what helps you get on and off your dock. For this reason we've compiled this guide to make you fully aware of the different types of steps you can purchase for your unique dock construction.
Wooden Dock Steps
Wooden dock steps are the most traditional option for the majority of docks for several reasons. One major being the fact that wooden steps do offer a natural beauty and strength that are guaranteed without a doubt. Typically, wooden steps are made with treated lumber and are one of the most affordable options due to the fact that this material is generally readily available and doesn't require a special order.
While it's important to consider all the great additions that can come from purchasing wooden dock steps it's also worth understanding some of their disadvantages. These can include the fact that they can be prone to damage, rot, and wear over time. This type of material does require regular maintenance as well.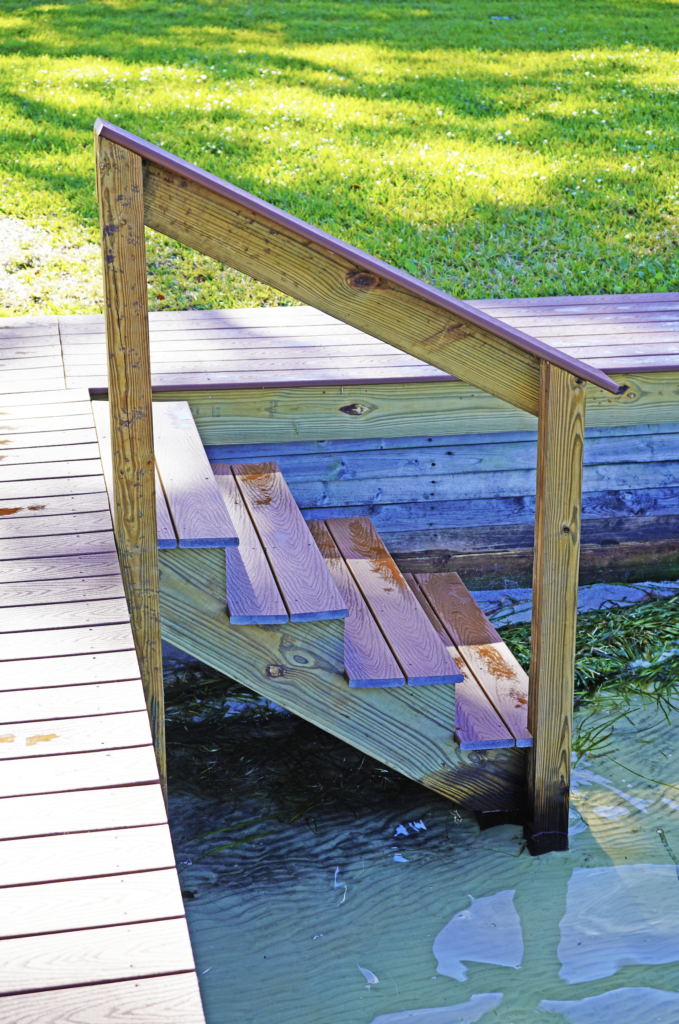 Aluminum Stairs
If you are looking for a stylish and sleek look for your dock you may want to consider aluminum stairs. They are sturdy and lightweight and can hold up quite well with exposure to water in comparison to wood. Aluminum stairs can cost more upfront. However, typically they are low maintenance and due to their long-lasting qualities they can save you money in the long run.
Of course, it's also worth considering the fact that aluminum stairs do run the risk of rusting or corroding after long periods of time. Also, aluminum steps needed to be welded professionally or they can break, which can cause a potential hazard.
Plastic Steps
If you're looking for the most budget-friendly priced offering, you may want to consider plastic dock steps as they also offer durability and longevity. Plastic steps also are a great barefoot-friendly solution and they require limited upkeep and are built to withstand all types of weather, including hurricanes. It's also worth noting that they are more gentle one your lake accessories, including boats and inflatables.
Like every material, plastic also comes with disadvantages. Specifically, the fact that they may be prone to cracking over time.
How to Choose the Right Dock Steps for You?
Initial cost: The upfront price of your dock steps is an essential aspect to consider so you know whether your budget will support the purchase. 
Required maintenance: Maintenance fees can add up over time.
Safety: Getting dock steps that will hold up against the anticipated use is critical to keep your friends and family safe. 
Longevity: Consider the life expectancy of the dock steps with proper maintenance to ensure your initial investment is worth it. 
Looking to get the dock of your dreams and live in the Central Florida area? Why not have a 5-star rated dock building company take on the job? Call us today at 407-630-9600!