What are the Benefits of Boat Lifts?
Keep your boat and personal watercrafts safer and cleaner with a lift. Whether it's a cradle, strap or motorized lift, we can help you with choosing the best option for your environment and type of aquatic vehicle.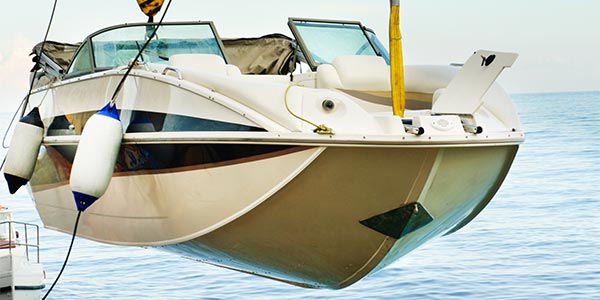 Prevention of Hull Damage
While your boat is in the water, it is exposed to sea-level changes, rough waters from weather conditions, hull blisters as well as corrosion and algae. These types of boat damages can be significantly reduced or even eliminated with a boat lift.
Current and Future Money Savings
Having a boat lift can increase your boat resale value by 10%-20%. Storing your boat on a lift eliminates damage associated with water storage and reduces the amount of money it takes to paint, clean and maintain the boat regularly. Having a clean boat bottom will also improve performance on the water, save fuel, increase gas mileage and keep the boat in beautiful condition longer. Having a boat lift is an investment in the future of your boat and in the quality time with friends and family.
Prevents Algae and Corrosion Build Up
Residue and scum associated with algae build up can be a costly and unsightly plight to your boat. Corrosion is not only ugly, but it can cause leaks to form in your hull. Keeping your boat above the water and dry will prevent algae from growing and significantly reduce corrosion which saves money on routine cleaning and painting costs.
It Makes Your Boat Safer and Quicker to Launch
Waves and changing water levels can make boarding your boat a bit shaky especially for young children. Having your boat on a lift reduces prep time to be in the water and provides a steady platform to get on and off. With the push of a button, your boat can be on the water and ready to enjoy for the entire family.
What are the Types of Lifts?

Cradle Lift
Typically used in coastal environments, cradle lifts are designed for the boat to be cradled by bunks fixed with crossbeams that hold the watercraft in place. They look similar to a boat trailer transport. The beams are attached to cables that raise and lower the vessel.
Sling Lift
Sling lifts are designed with high tensile straps that slide underneath the boat. Due to the limited space needed for the straps, sling lifts are more suitable for shallow waters. They provide a softer surface and act like a hammock that suspends your boat above the water. Sling Lifts are one of the least expensive forms of boat lifts. The other side of that coin is that they also provide less support and protection than other types of lifts.
Motorized Lift
Motorized lifts provide safe and easy access to your vessel with the push of a button. The increased convenience must be accounted for by a power supply which, depending on your Home Owners Association, may not be permitted. If it is permitted, it must be safely installed and maintained.
Motorized lifts are more expensive than manual lifts for obvious reasons, but setting up your power source comes with other benefits such as lighting up your boat dock at night. Sit back and visualize having dinner with your family at night while looking out on the calm water. It's worth it.
---
Do you have any more questions?