Are damages and cracks to your dock causing you to keep party guests away from the water? Are your children not allowed to play on the dock because you aren't confident in its stability? Your dock is exposed to a number of elements that can cause it to weather, splinter, crack, or even be destroyed. If your dock has been damaged or has worn down, call Secured Dock Builders for repair and maintenance. We handle any form of damage and get your dock looking brand new again.
Has Your Dock Been Damaged?

Wood Rot
Wood rot can be the silent killer to your dock. If your dock is made of wood, it can develop a fungus that eats away at the dock itself. The reason we call it silent, is because the top of your deck may look pristine, but wood rot could be eating away at it from underneath. Replace boards with rot right away so it doesn't spread. If it is widespread, you may need a replacement or at least a large repair.
Prevention Tips
You can coat your deck with a deck stain to lock out the moisture that causes wood rot or you can decide to go with another material all together like Trex composite deck boards. Regardless of the extent of the damage, Secured Dock Builders can fix it up.
Storm Damage
From hurricanes to severe storms, your dock can take a pounding. Damage from the weather can come in a variety of forms including, wind damage, water damage, flying objects hitting your dock, and many other forms that can be worrisome to dock owners.
Prevention Tips
Secure your boat by doubling the lines that tie your boat to the dock. Use brand new lines if your current lines are older and frayed. Remove sails, covers, biminis, and other coverings when facing high winds. Small boats including dinghies and other inflatable objects should be brought ashore. Similar to how we secure the outside of our house for severe storms, do the same for your dock and boat to reduce damage to your property and the property of others.
Boat Damage
Whether you are a new or old boat owner, the possibility exists that you may damage your dock by hitting it with your boat. Depending on the boat speed, you could damage or even destroy your dock. If your dock is destroyed, you are going to need to replace it with something sturdy and long lasting. Click here for some options to replace your dock.
Prevention Tips
The obvious first step is to make sure that your boating license is accurate and up to date. Also make sure that the only people who you allow to drive your boat are trained. You also want to make sure that your boat is properly tied up in case of storms or powerful waves.
Is Your Dock Covered for Damage?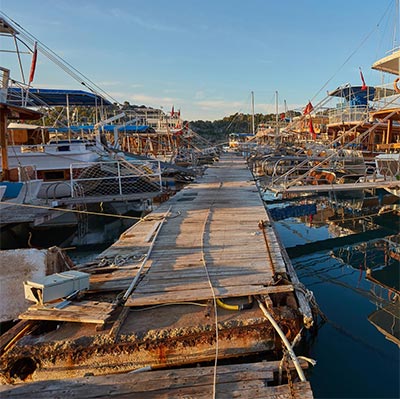 Like most instances of insurance coverage, the possibility of coverage lies directly with the circumstances of the damage. Docks are typically covered in your homeowners' insurance except for flood or storm damage. Review your policy and look for exclusions. Here are a couple of common exclusions for docks:
If there is a collapse of a building or part of a building that causes your dock to slip into the water, that will not be covered.
Any damage resulting from freezing is typically not covered.
The most common damage is caused by water in a flood, wind-driven rain, and the weight of water crashing onto the dock. Unfortunately, those damages are typically not covered. Lightning and fire damage, however, are usually covered. Every scenario and policy are different. Take the time to look through your policy with your agent and specifically discuss exclusions related to your dock and water damage.
---
Do you have any more questions?